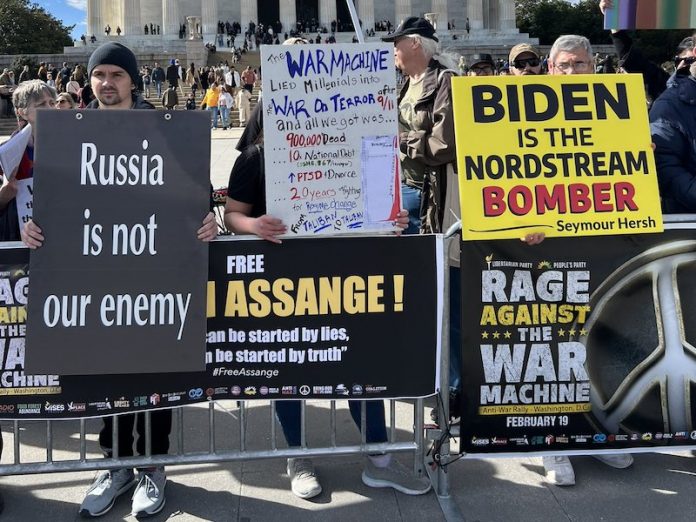 Listen to this week's episode of COVID, Race, & Democracy from Pacifica Radio:
On Sunday, February 19, in Washington DC, antiwar journalists and activists, including four former Congresspersons, rallied at the Lincoln Memorial to call for an end to the US proxy war with Russia in Ukraine and the military industrial complex's constant lobby for war. Pacifica reporter Thomas O'Rourke has a report from the rally.
We also hear from several speakers at the Rage Against the War Machine rally in Washington DC:  The Grayzone Editor Max Blumenthal, author and former war correspondent Chris Hedges, and comedian Jimmy Dore.
Several peace groups, including Code Pink, the Black Alliance for Peace, and Veterans for Peace chose not to participate in the rally because it was organized by the People's Party and the Libertarian Party, and they consider the Libertarian Party's ideals to be starkly contrary to their own. 
***
At a rally in San Francisco on February 16, actor and political activist Danny Glover joined the International Longshoremen and Warehouse Union to support the fight for freedom for Mumia Abu-Jamal. He spoke with Pacifica's Steve Zeltzer about growing political repression and racist attacks.
We then hear from Tyre Nichols' brother and sisters, who also joined the rally to free Mumia.
***
A secessionist versus unionist struggle is underway in Somalia. Secessionist forces in Somaliland State have attacked the Somali unionist community in Lasanod, killing more than 100 people, and the UN High Commission for Refugees says that tens of thousands of Somalis have fled into Ethiopia to escape the violence. Unionist protestors in Lasanod have issued a statement saying that they consider themselves citizens of Somalia. Pacifica's Ann Garrison spoke with Somali American software engineer and writer Jamal Abdulahi, whose essay "United States's Pursuit of Imperial Military Base in Northern Somalia Fuels Brutal War" appears in Black Agenda Report.
***
The death penalty carries the inherent risk of executing an innocent person. According to the Washington DC-based Death Penalty Information Center, Since 1973, at least 190 people who had been wrongly convicted and sentenced to death in the U.S. have been exonerated. Gloria Rubac, long-time advocate of abolishing the death penalty, and co-founder of the Texas Death Penalty Abolition Movement reports.
And that concludes today's edition of Covid, Race & Democracy. We thank all of Pacifica's sister stations and affiliates who contribute to the production of this show. Today's program was produced by the CRD collective and hosted by Polina Vasiliev.
Thanks for listening!
Music:
Bobby McFerrin, "Elephant's Child" 
Somaliland, "Gaarida Baarida Haween"