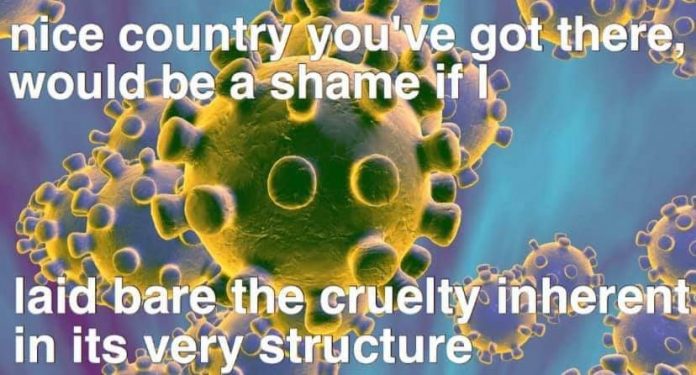 COVID, RACE AND DEMOCRACY is a national weekly show from Pacifica Radio, an effort by committed volunteers from across the network. Our "Best Of. . . " show includes:
Twenty-eight million Americans are facing eviction or foreclosure as moratoriums on both expire at the federal, state, and municipal level. Producers Sara Blanco and Frank Sterling bring us the story of a tenant in Contra Costa, CA, standing up for her rights.
Poetry from Amiri Baraka.
Producer Ann Garrison speaks to David Zirin, Nation Magazine sportswriter and co-host of "The Collision: Sports and Politics," about whether US team sports and US militarism can be untangled.
Producer Steve Seltzer reports on thousands of Alameda County, California health workers fighting for Personal Protective Equipment (PPE) and staffing, and against outsourcing and union busting.  Pacifica's Steve Zeltzer brings us the details.
Chase Iron Eyes, an attorney with the Lakota Peoples Law Project, speaks on Indigenous Peoples' Day.
Producer Akhua Holt spoke to George Floyd's long-time classmates and close friends who have created 88 CHUMP. (Floyd's jersey number at Jack Yates High School was 88). CHUMP is an acronym for Communities Helping Underprivileged Minorities Progress and is a new nonprofit dedicated to honoring Floyd's legacy.
Steve Greenfield, Green Party Congressional Candidate for New York's 19th District, speaks on the 2020 election.
Between 1815 and 1865 over a million African children were stolen and sold or traded within the United States.
"Covid, Race, and Democracy" is a collective effort of producers from the Pacifica Radio Network and its affiliate stations across the US. This "Best of Covid, Race, and Democracy" was produced by Polina Vasiliev and Ann Garrison. The show's executive producers are Akua Holt, Steve Zeltzer, and Polina Vasiliev. Verna Avery-Brown is our executive consultant. You can find all the previous episodes on this website.