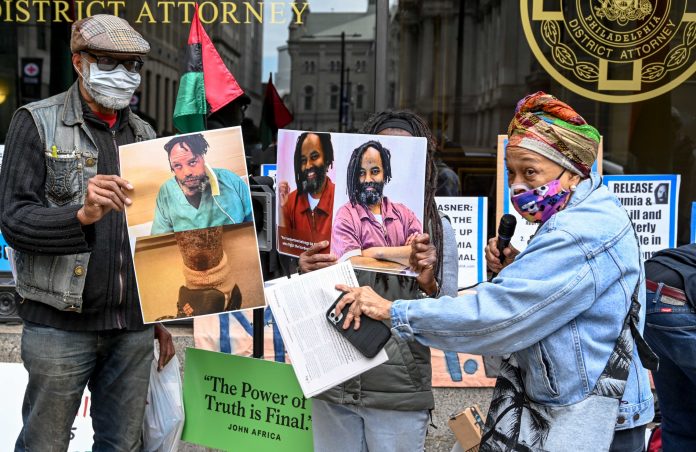 "Just because it's legal doesn't make it right." -John Africa, founder of MOVE
Award winning international journalist, activist and freedom fighter Mumia Abu-Jamal, has been imprisoned for nearly 40 years. He was convicted and sentenced to death in a trial that Amnesty International has denounced as failing to meet the minimum standards of judicial fairness. Mumia has maintained his innocence since 1981.Poli
Supporters say Mumia's innocence can be proven to win his freedom. However, they assert intentional delays and roadblocks have impacted the process. Supporters have also called for an urgent compassionate release of Mumia, due to inhumane treatment, and lack of basic health care as he battles COVID-19, and other dire health challenges behind bars.
UCLA BEHIND BARS DATA                                                                                 
African American people make up a third (33%) of the incarcerated population, compared with 13% of the general population. According to the UCLA COVID-19 Behind Bars Data Project, by Aug, 2020, there were an estimated 113,664 COVID-19 cases and 887 related deaths among incarcerated people in the USA. Since last year, the 15 largest known clusters of COVID-19 cases in the USA have occurred in prisons and jails, were released due to his current battle with Covid 19, and a number of other health issues.
Generocity                                                                                                                The website Generocity reports, "Coronavirus has disproportionately impacted  2.3 million people incarcerated in prisons, where the country's largest and most lethal outbreaks occur.  The death rate is 45 percent higher than the general U.S. population. For the incarcerated and the staff who monitor them, COVID-19 morphs from a crisis into a public health disaster." 
Voices and Links:
Mike Africa, Jr., Hip Hop artist and podcast host of On the Move with Mike Africa, Jr.
Pam Africa, Move and International Family and Friends of Mumia
Noelle Hanrahan, investigative journalist and co-director of Prison Radio
Dr. Johanna Fernandez, Associate Professor of the  Department of History at Baruch College of the City University of New York, and author of, "The Young Lords: A Radical History." She is a leading voice in the fight to FREE Mumia Abu Jamal. She talks about the Black Radical Movement in the United States, its repression by the state, and the people's resistance.
Listen to Steve Zeltzer's full conversation with Noelle Hanrahan here:
Santiago Alvarez, University of California, Santa Cruz, Mumia Abu-Jamal Solidarity  Collective Mumia San Francisco Action Committee
and the Campaign to Bring Mumia Home
Betsy Piette, managing editor, Workers World Newspaper, check it out at https://www.workers.org/
Joe Piette, activist with Mobilization for Mumia
Ken Yale's full conversation with Betsy and Joe Piette:
Dr. Johanna Fernandez, Associate Professor, Department of History, Baruch College, City University of New York
Author, The Young Lords: A Radical History
Mumia Abu-Jamal
Award-winning journalist, author of many books, including Death Blossoms, Live from Death Row, All Things Censored, Writing on the Wall, and Jailhouse Lawyers.
Journalist, political prisoner, and revolutionary, Mumia Abu-Jamal is recovering from COVID-19 and is back in general population after completing quarantine in the prison infirmary. Mumia's emergency-transfer to a hospital outside the prison on Sat, Feb 27,  came less than 24 hours after supporters flooded the prison and Philadelphia DA's office with emails and calls expressing concern about the health of the veteran Black Panther. His movement-appointed doctor, Ricardo Álvarez, is quoted saying "The only acceptable treatment is Mumia's freedom." His supporters are calling for the freedom of all political prisoners and all prisoners over the age of 50 and those with pre-existing conditions.
Listen to host Johanna Fernández' (WBAI) full interview with Dr. Ricardo Álvarez here:
Lift your hand to struggle and justice for political prisoners:
Show Credits:
Playlist
Terri Lynn Carrington, Social Science – Mumia Abu Jamal 
Free Mumia Wordz, The Poet Emcee 
Ayanna Gregory, Warriors Rise
Production Team
Special thanks to producers Ken Yale and Ursula Rudenberg, and to our media intern – Akono Kamau. Thanks to Gloria Rubac, and Ted Kelly, of Workers World for sharing audio of their online forum to raise awareness about Mumia's case and health crisis.
Host: Akua Holt
Producer/Editor: Akua Holt and Polina Vasiliev
Sound design: Polina Vasiliev                                                                           
Executive Producers: Akua Holt, Polina Vasiliev, and Steve Zeltzer
About COVID, RACE, AND DEMOCRACY
CRD airs every Monday at 2 PM CST on KPFT 90.1FM in Houston TX, 4 PM EST on WBAI 99.5FM in New York, 6 PM EST on WPFW 89.3FM in Washington DC, as well as on several Pacifica Network affiliated stations across the United States.