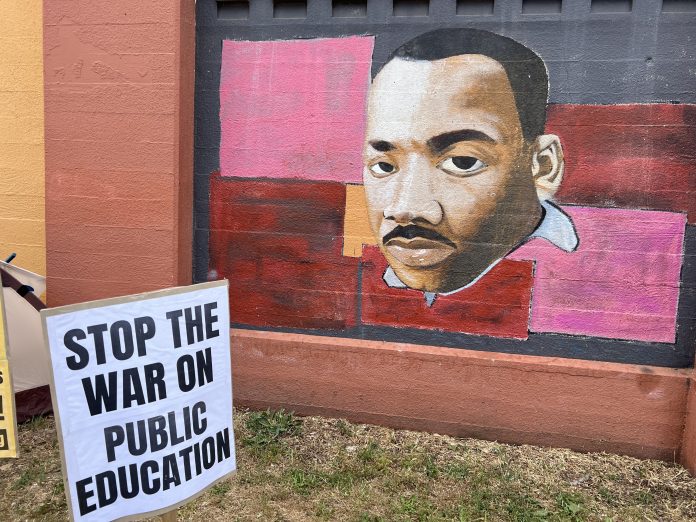 This week on COVID, Race, & Democracy:
In Houston, Texas the American Federation of Teachers National President Randi Weingarten, National Education Association President Becky Pringle, Ovidia Molina – President – Texas State Teachers Association, Texas Congressional representatives Sheila Jackson Lee, and other leaders and organizers held a rally to STAND UP against GUN VIOLENCE, responding to the tragedy in Uvalde and Buffalo, New York and the NRA Convention held in Houston over the weekend.  
The research group Small Arms Analytics and Forecasting stated, "the gun industry in the U.S. is — unique for its massive production of weapons for both military and civilian markets — is coming off its best years in history. Gunmakers sold an estimated 19.9 million firearms in 2021, second only to the 22.8 million sold in 2020." 
Texas republican governor Gregg Abbott and other state officials have been criticized for their lack of an effective response to the tragic event in Uvalde. Abbott initially praised law enforcement for their "quick response" to the shooting. New information revealed that 19 officers were on the scene, while waiting for over a hour for a tactical unit to enter the building. Abbott said that he had been "misled" about the police response and expects a full investigation, at a press conference.
An online ad for Daniel Defense (the company that sold the weapons to 18 year old shooter Salvador Ramos), ran a week before the Uvalde shooting showed a young boy holding an AR-15-like rifle on his lap, along with the caption: "Train up a child in the way he should go, and when he is old, he will not depart from it." A Bible reference.
President Biden and First Lady Jill Biden paid their respects to the grieving families on Sunday in Uvalde.
Also on Sunday, Anthony Coley, DOJ spokesman stated, "The Justice Department will conduct a review of the police response to the shooting to provide an independent account of law enforcement actions and responses that day, and to identify lessons learned and best practices to help first responders prepare for and respond to active shooter events."   According to the department, Uvalde's mayor, Don McLaughlin, requested the DOJ inquiry.
Voices:                                                                                               
*National Education Association National President Becky Pringle                 
*Ovidia Molina – President – Texas State Teachers Association                   
*TX Congresswoman Sheila Jackson Lee
***
In early June, the AFL-CIO will be holding a national convention in Philadelphia. There is a growing tide of workers organizing from Amazon to Starbucks.
David Van Deusen, the president of the Vermont AFL-CIO has presented a resolution to prepare for a general strike if there is another attempted coup or insurrection. He shared his thoughts about the rise of racist attacks and fascism.
David and his council have also submitted a resolution for the right of the rank and file to vote for the leadership of the largest trade union federation in the country. Pacifica's Steve Zeltzer interviewed him about these issues.
***
Lisa Dan was a software programmer at Elon Musk's Tesla in Fremont. She recently spoke out against Elon Musk's takeover of Twitter because of his racist and union busting tactics at Tesla.
***
There is an epidemic of the closure of public schools in the Black and Brown communities. In Northern California, parents, children and community supporters occupied Parkers Elementary school in East Oakland which the school board had ordered closed. At the same time, they have expanded and opened charters run by billionaires. A community labor solidarity event was held on Saturday, May 28, 2022.
***
This Memorial Day weekend, as many people are traveling on planes, over five thousand  flights have been canceled not only due to weather but COVID cases among flight attendants. A Federal Court judge appointed by former president Trump has issued an order that the government cannot order passengers to wear masks. Judith Anderson who is an industrial Hygienist with the Association of Flight Attendants talked to Pacifica's Steve Zeltzer about the manipulation of studies by Boeing and the airline industry to claim that their planes are safe and passengers have little risk of getting COVID in flight, despite the continuing dangers of COVID-19.
***
Last week the World Health Assembly elected Dr. Tedros Adhanom Ghebreyesus to another five-year term as Director General of the World Health Organization. Seventeen EU countries and 11 other nations nominated Tedros, but only three African nations—Rwanda, Botswana, and Kenya—joined them.  Candidates are typically nominated by their nation of origin, but Ethiopia did not nominate Tedros, a former Health and Foreign Minister for the government when it was dominated by the Tigrayan People's Liberation Front, commonly known as the TPLF.  COVID, Race, and Democracy's Ann Garrison reports from Gondar, Ethiopia.
                                                               ***
Credits:
Today's program was produced by the executive producers of CRD, Akua Holt, Polina Vasiliev, and Steve Zeltzer.  
Music Credits:
"Save the Children," Gil Scott Heron   
"All In Vain," Chumba Wamba