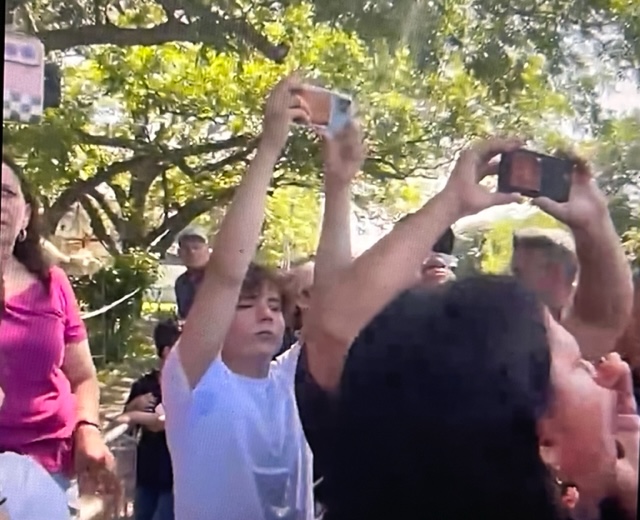 This week on COVID, Race, & Democracy:

The history the 1970 Chicano/Mexican Movement, and Robb Elementary school where the massacre took place in Uvalde is important to the struggle, identity and the fight against cultural erasure. Dennis Bernstein (Flashpoints, KPFA) spoke to Camilo Perez Bustillo, director of research, advocacy and leadership development at the Hope Border Institute, based in the US-Mexico border region in El Paso, Texas, about this important history and resistance against segregation. They discussed a recent Truthout article by Camilo P. Bustillo, Uvalde Students Fought for Desegregation in 1970s. Now Let's Rise Up for Them.
.***
Melissa Brymer, director of terrorism and disaster programs at the UCLA-Duke National Center for Child Traumatic Stress says, "American children regularly practice active-shooter drills and consider the possibility of a crisis in their own classrooms from a young age, making school shootings like the one in Uvalde very upsetting news for some."  Many survivors of gun violence and their families, experience trauma that must be addressed for emotional health and well being. 
***
Peace activist and author P.K. McCary, and former Texas school counselor Bronwyn Lucas. If you need help or assistance, contact The National Child Traumatic Stress Network. They have resources available in both English and in Spanish for helping children cope. Their mission is to raise the standard of care and improve access to services for traumatized children, their families and communities throughout the United States. 
For more information:  The National Child Traumatic Stress Network
***
The grieving community of Uvalde pleads with TX republican gov Greg Abbott to provide help for their families. 
In April 2022, Texas Governor Greg Abbott reportedly slashed $211 million from the Texas Health and Human Service, which oversees mental health programs. Texas ranked last out of all 50 states and the District of Columbia for overall access to mental health care, according to the 2021 State of Mental Health in America report.
***
In downtown Houston, hundreds of people stood in the sweltering Texas heat for hours protesting against gun violence and the NRA. Protest voices included, Texas American Federation of Teachers National, National Education Association , Texas State Teachers Association. Texas Congressional representatives Sheila Jackson Lee and CM Al Green, Harris County Judge Lina Hidalgo, and other leaders and organizers held a rally to STAND UP against GUN VIOLENCE responding to the tragedy in Uvalde and Buffalo, New York and the NRA Convention held in Houston May 27-29.
***
Texas teachers have faced one attack after another from the COVID pandemic and now the massacre in Uvalde. Pacifica's Steve Zeltzer spoke with three teachers, Jacqueline Martinez, Michael Hull and Amy Lopez about the issues they are facing.
***
California Congressman Eric Swalwell asking his republican colleagues, "who are you here for?" last Thursday. A post on his Twitter page stated he was @HouseJudiciary meeting in support of a package of bills to reduce the persistent gun violence that has torn apart families and communities."
***
For the political and historical context behind the recent wave of mass shootings in the US we'll now hear from historian and author Dr. Gerald Horne, Moores Professor of history at the University of Texas, Houston. Dr. Horne spoke with Max Blumenthal and Aaron Mate of The Grayzone. The Counter Revolution of 1836: Texas slavery & Jim Crow and the roots of American Fascism by Gerald Horne
***
The Ethiopian rainy season that has just begun will mark the third filling of the Grand Ethiopian Renaissance Dam, a project that has united Ethiopians throughout its construction. COVID, Race, & Democracy's Ann Garrison reports from Addis Ababa, Ethiopia.
***
Philadelphia's own Kenny Gamble, media strategist Dyana Williams, and radio DJ Ed Wright created Black Music Month in 1979 to "promote and preserve Black music." On June 7, 1979, President Jimmy Carter held the first-ever Black Music Month celebration on the White House lawn. 
Grammy Award winning pianist, record producer, songwriter, and musical arranger with a career that bridges several different musical and art genres. Native of Houston, TX  – Robert Glasper, "So Beautiful."
JUNE is Black Music Month 
Find out more:  How Black Music Month Started
***
Credits:
Today's program was produced by the executive producers of CRD, Akua Holt, Polina Vasiliev, and Steve Zeltzer.  
Music Credits:
Dee Dee Bridgewater Children Are the Spirit of the World
Sweet Honey In The Rock – Let There Be Peace
Last Poets "This is Madness"