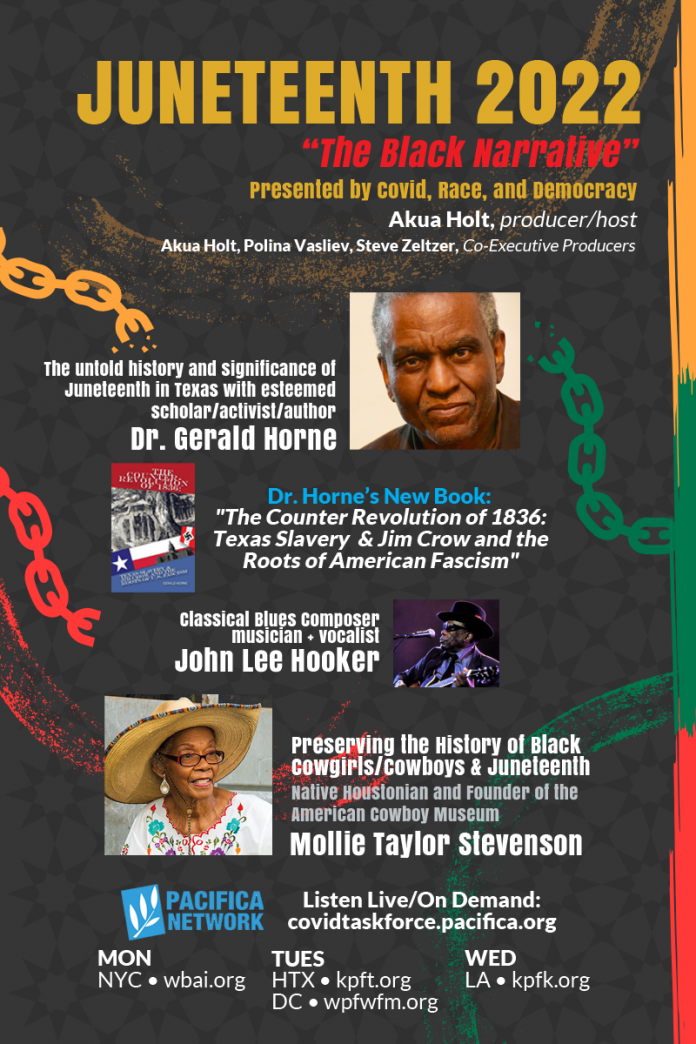 This week on COVID, Race, & Democracy:
"In my career, people in the record business have been rockin' in the same ol' boat. They all crooks – I'll say it clear and loud – especially the big ones."  – John Lee Hooker 
.***
President Lincoln's Emancipation Proclamation had officially outlawed slavery in Texas, and other states at war with the Union on January 1, 1863. Texas resisted and ignored the order until Union Troops arrived on the shores of Galveston with General Gordan Granger, on June 19, 1865. 
Granger issued general order number three that promised to African's formally enslaved,  "absolute equality of personal rights and rights of property between former masters and slaves," and clarified the relationship between slaveholders and enslaved as one "between employer and hired labor."
Scholar/activist Dr. Gerald Horne, author of the newly released book,
The Counter Revolution of 1836: Texas slavery & Jim Crow and the roots of American Fascism spoke to host Akua Holt about the untold history of Juneteenth, and why Texas challenged the United States for leadership in the African Slave Trade.
Dr. Gerald Horne holds the Moores Professorship of History and African American Studies at the University of Texas, Houston. His research has addressed issues of racism in a variety of relations involving labor, politics, civil rights, international relations and war. 
.***
Today, in honor of Black Music Month/Juneteenth – we pay tribute to all the unsung blues composers and musicians, including the great John Lee Hooker who said, "The one thing the blues don't get is the backing and pushing of TV and radio like a lot of this garbage you hear. They choke stuff down people's throat so they got no choice but to listen to it."
John Lee Hooker, was interviewed backstage  KPFT's historic 1984 Juneteenth Blues Festival in Houston, TX which was at that time … largest Blues event in the U.S.  
Hooker was ranked 35 in Rolling Stone's 2015 list of 100 greatest guitarists. The Healer (for the song "I'm In The Mood") and Chill Out (for the album) both earned him Grammy wins as well as Don't Look Back, which went on to earn him a double-Grammy win for Best Traditional Blues Recording and Best Pop Collaboration with Vocals (with Van Morrison). Hooker appeared in the 1980 film as a street musician Boom Boom in The Blues Brothers. In 1989, he recorded the album The Healer with Carlos Santana, Bonnie Raitt, and others. Mr. Lucky (1991), Chill Out (1995), and Don't Look Back (1997) with Morrison, Santana, Los Lobos, and additional guest musicians.
John Lee Hooker transitioned, June 21, 2001, in Los Altos, California.
***
Texas House Bill 1016 was created by the late state representative Al Edwards, and passed in the 66th Legislature, Regular Session, declaring June 19, "Emancipation Day in Texas," a legal state holiday in 1980. 
Mollie Taylor Stevenson-Scott is a former model, and the daughter of the late iconic Benjamin Franklin "Big Ben" Stevenson (a football star at Tuskegee Institute) and Mollie Stevenson, Sr.  Mollie Jr. and her mother were the first living African-American women inducted into the National Cowgirl Museum and Hall of Fame. 
She and her husband, Elicious Scott Jr., are educators teaching youth and adults about Black cowboy culture and agriculture in the south. She spoke to PK McCary of KPFT's Juneteenth Collective.  
Mollie received the Chester A. Reynolds Memorial Award, one of only two women to have received the honor. Mollie Jr. founded the American Cowboy Museum which is located on the Taylor-Stevenson Ranch, an historic working ranch in Houston, TX originally purchased in 1875 by her great-grandfather, Edward Ruthven Taylor.  Her ranch is among the oldest African American-owned ranches in the United States.
***
Oakland Parents, students and teachers have organized a liberation school, and they have  occupied Parker Elementary since May 25th, to protect this important institution from closure by the district along with 10 additional schools.
This Juneteenth weekend, Pacifica's Steve Zeltzer interviewed Rochelle Jenkins, a Parker parent and one of the organizers of the liberation school, about the struggle to defend public education and schools in the Black community.
***
Philadelphia's own Kenny Gamble, media strategist Dyana Williams, and radio DJ Ed Wright created Black Music Month in 1979 to "promote and preserve Black music." 
According to Vibe Magazine, President Carter declared June Black Music Month with the first Black Music Month event on White House lawn,  June, 1979. Dyana Williams discovered in the late '90s that President Carter didn't issue an official decree, so she worked with her local congresswoman to draft House Resolution 509, better known as The African-American Music Bill. Resulting in the official recognition of  Black Music Month in 2000.  
In its official form, the bill — signed by former president Bill Clinton — called for a formal acknowledgment and celebration of black music's contribution to and impact on American life and culture. This is the spirit in which we observe Black Music Month today."
May 31, 2022, President Joe Biden declared June 2022 as "Black Music Appreciation Month. 
JUNE is Black Music Month 
Find out more:  How Black Music Month Started
***
Credits:
Today's program was produced by the executive producers of CRD, Akua Holt, Polina Vasiliev, and Steve Zeltzer, and hosted by Akua Holt.
Music Credits:
Milt Larkin, Stormy Monday
Fertile Ground, Broken Branches 
Roy Ayers, Black Family 
John Lee Hooker, Live 1985 KPFT Juneteenth Festival HTX