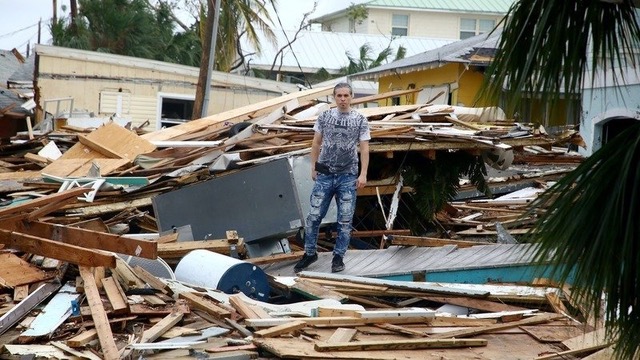 This week Florida suffered an environmental and social catastrophe when Hurricane Ian hit the state, causing massive floods, displacement, and death. Jack Wallace, host of WSLR Radio-St. Petersburg's "The Ruthless Truth," was on the ground speaking to survivors. He shared his insights with Pacifica's Steve Zeltzer.
Jack Wallace of WSLR Reports On Florida Hurricane, Capitalism & Climate Crisis
Full Federal Assistance for Florida after Hurricane Ian now!
***
UN World Food Program Chief David Beasley says that the world is facing drastic food shortages for several reasons, including a shortage of the nitrate fertilizers used to grow half the world's food crops. Pacifica's Ann Garrison has the details.
Next week we'll discuss the global food and fertilizer crisis with Tufts University professor and agricultural policy expert Timothy A. Wise. 
***
Representative Rashida Tlaib got into hot water with the Democratic party leadership for asserting that you can't be progressive and support Israel's apartheid government. Independent journalist Katie Halper says she submitted a commentary to the Hill TV's morning broadcast, "Rising",  in which she presented facts to substantiate Tlaib's apartheid charge. The Hill censored the segment and then fired Halper. We share the commentary Katie recorded but "Rising" refused to air. The Hill is owned by Nexstar Media Group.
***
Last week thousands of United Airlines flight attendants protested union busting by the company. They rallied throughout the US and at airports around the world.  At San Francisco International Airport, they joined 1,000 striking Unite Here Local 2 food service workers who were fighting for living wages. Their strike was settled after they forced the restaurants to close down for three days.
***
Dance Africa celebrates 50 years, founded by the late Chuck Davis. Dallas Black Dance Theatre (DBDT) proudly presents the 17th Annual DanceAfrica on October 7-8, 2022, at the Moody Performance Hall and the DanceAfrica Festival & Marketplace at Klyde Warren Park on October 8, 2022, in Dallas, Texas.  Host Akua Holt spoke to Nycole Ray of Dallas Black Dance Theater. 
Founded in 1976 by Ann Williams, Dallas Black Dance Theatre's mission is to create and produce contemporary modern dance at the highest level of artistic excellence. As the largest and oldest professional dance company in Dallas, DBDT is the fourth-largest Black dance company in the nation, the ninth-largest contemporary modern dance company, and ranked 40th among the nation's leading ballet companies.  
DANCE Africa   October 7-8, 2022   7:30 pm
Moody Performance Hall   2520 Flora Street   Dallas, TX 75201   
  In-person +  Live streaming  + On-demand
To find out more about Dance Africa visit  www.DBDT.com or call  214-880-0202. 
***
We thank all of Pacifica's sister stations and affiliates who contribute to the production of this show. Today's program was produced by the executive producers of CRD, Akua Holt, Polina Vasiliev, and Steve Zeltzer with help from Pacifica's Ann Garrison.  Thanks for listening!
Music:
"Work every day" by Brother Ali
"All in vain" by Chumba Wamba
"Long Live Palestine" by Lowkey