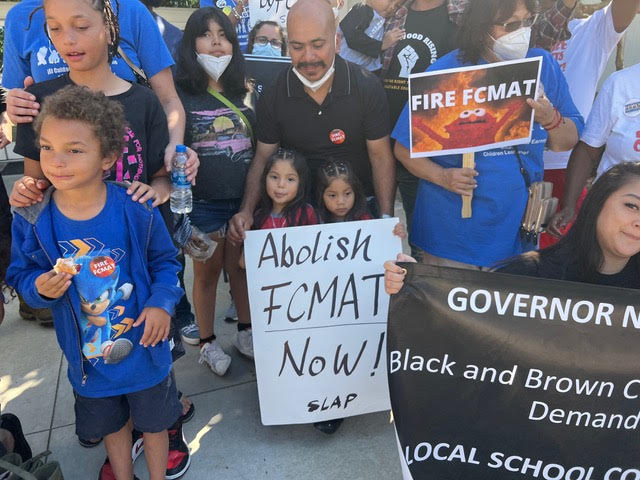 Listen to this week's episode of COVID, Race, & Democracy from Pacifica Radio:

In Downey, California on September 21 parents, children and school workers rallied and spoke out about the closure of Black and Brown working class schools in California by the Fiscal Crisis & Management Assistance Team. This non-profit agency set up and funded by the State of California has been used to force school districts to close public schools while allowing the expansion of charter schools. California has a budget surplus of $97 billion but Governor Newsom and the Democratic Party-controlled legislature continue to oversee the closure of schools in urban working class communities.
LA Protest Shuts Down FCMAT Meeting As Protesters Demand Stop Closures, Charters & Privatization
FCMAT – California's Unaccountable Political Player
***
Next, we turn to South Africa. Dr. Leyla Brown, Assistant Professor of Cultural Anthropology and Africana Studies at Northeastern University, was in South Africa at the start of the COVID pandemic. Her recent article is "The Pandemic of Racial Capitalism: Another World is Possible."  ​​Black Power Talks, produced by Pacifica Affiliate WBPU in St. Petersburg, Florida, spoke to Dr. Brown about the COVID-19 response and the African working class in South Africa.
***
Although Apple touts itself as an environmentally conscious company,  the reality for tens of thousands of Apple workers in Silicon Valley is quite different. They are unaware that many of their worksites are located on top of highly contaminated and toxic sites including even superfund sites.
Former Apple employee Ashley Gjøvik was working at an Apple office in Sunnyvale when she learned that her building was  atop a dangerous superfund site and that it was making her sick. She began a struggle for testing to protect her safety and that of her fellow workers. She spoke to Pacifica's Steve Zeltzer about how she learned this and how Apple retaliated  against her for whistleblowing.
Field Notes on Regulatory Capture, Part II
***
A live and on-line event at a Washington, DC public library Sept 17 co-sponsored by DC Action for Assange and Consortium News screened Juan Passarelli's documentaryThe War on Journalism about the critical press freedom case of Wikileaks publisher Julian Assange.  Also joining were whistleblowers Daniel Ellsberg and John Kiriakou, 1st Amendment lawyer James Goodale; journalists Stephania Mouritzi, Catherine Vogan, Chip Gibbons, and Louis Wolf.
Joe Lauria, editor of Consortium News moderated and spoke about what he termed the Five Myths about Assange.  He debunked each in turn.
In conjunction with major actions in London and other cities worldwide on October 8, there will be a rally for Assange's freedom at the Department of Justice, 950 Pennsylvania Ave NW in DC from noon to 2PM.
***
We close the show with Colombia's new president, Gustavo Petro, criticizing the US War on Drugs while addressing the 77th session of the United Nations General Assembly in New York City. Watch the full address here.
And that concludes today's edition of Covid, Race & Democracy. We thank all of Pacifica's sister stations and affiliates who contribute to the production of this show. The executive producers of CRD are Akua Holt, Polina Vasiliev, and Steve Zeltzer. Today's program is hosted by Ann Garrison.
Thanks for listening!
Music credits:
"Money" by Pink Floyd
"Shosholoza" by Soweto Gospel Choir
"Worker's Song" by Dropkick Murphys
"You've got to have freedom" by Pharoah Sanders