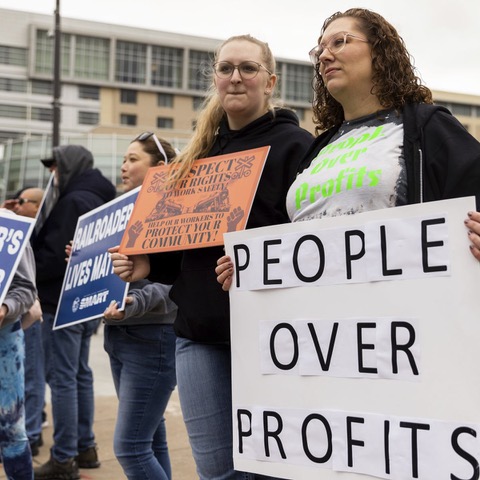 Listen to this week's episode of COVID, Race, & Democracy from Pacifica Radio:
Nearly 125,000 railway workers came close to going out on strike last Friday. They have dangerous and deadly working conditions imposed by railroad owners including Warren Buffet, who owns BNSF Railway. The COVID pandemic has put further stress on railroad workers. 
Pacifica's Steve Zeltzer spoke to Gabe Christenson, Nevada railroad conductor and co-chair of RWU, Railroad Workers United.
Railroad workers have not yet received the language of their labor contract that was agreed to at the White House with Labor Secretary Marty Walsh, their union leaders, and the railroad companies.
They will be voting on the contract and a strike is still possible if they reject it. House leader Nancy Pelosi, however, has promised that she and the Democrats will pass legislation to prohibit a strike. Their right to strike is already restricted by the 1926 Railway Labor Act which, according to Christenson and other  workers, has been used to destroy their working conditions and led to injuries and death. 
***
In the wake of the assassination of former Japanese Prime Minister and right-wing nationalist Shinzo Abe in early July, the relationship between him, his Liberal Democratic Party (LDP), and the Korea-based Unification Church or Moonies has come under daily scrutiny and caused a mounting political scandal for the ruling LDP.  Abe had a long career encouraging Japanese military expansion and denying the Imperial Army  policies including sexual slavery during WWII. He also worked to eliminate Article 9 of the Japanese constitution that prevents offensive war. He and the LDP continue to  support US bases in Okinawa and more nuclear power plants in Japan despite the continuing Fukushima nuclear disaster.
The comfort women and their supporters have also voiced outrage that Abe is scheduled to receive a "state funeral" on September 27 which will also be attended by House Speaker Nancy Pelosi and Vice President Kamala Harris. The majority of Japanese people are also opposed to the 10 million dollar, government-funded state funeral. Thomas O'Rourke, a Pacifica reporter in DC, recently spoke to retired California Superior Court Judge Julie Tang and Miho Kim of the Comfort Women Justice Coalition about all these issues.
A protest of Abe's state funeral is scheduled for Monday, Sept 26  at 12pm noon, to be held at  the Japanese Consulate on Battery Street in San Francisco.  For more information on the Comfort Women issue, go to RememberComfortWomen.org.
***
Next, we consider President Biden's invocation of the National Emergencies Act of 1976 to control the Horn of Africa. Pacifica's Ann Garrison has this story.
***
There is growing concern about the expanding war in Ukraine. In Moldova, a nation of two and a half million people just south of Ukraine, more than ten thousand people rallied in the capital to protest skyrocketing inflation and the government's failure to respond. The cost of gas and electricity has gone up over 300% and winter is coming.  
In San Francisco, a rally was held at the offices of California US Senator Alex Padilla opposing any further funding for the war in Ukraine and the wars around the world. Bert Knorr of the International Committee of the Democratic Socialists of America spoke at the rally.
***
Ukraine's Western-backed leader Volodymyr Zelensky opened Wall Street's New York Stock Exchange on a video link on September 6 and announced his country is "open" for foreign corporations to exploit it. Economist Michael Hudson and Multipolarista host Ben Norton discuss the neoliberal capitalist shock therapy measures being imposed on the war-torn nation.
And that concludes today's edition of Covid, Race & Democracy. We thank all of Pacifica's sister stations and affiliates who contribute to the production of this show.
Credits:
Host: Polina Vasiliev
Producer: Steve Zeltzer with assistance from Ann Garrison
Engineer: Polina Vasiliev
Executive Producers: Akua Holt, Polina Vasiliev, and Steve Zeltzer
Music:
"Cops of the World," Phil Ochs