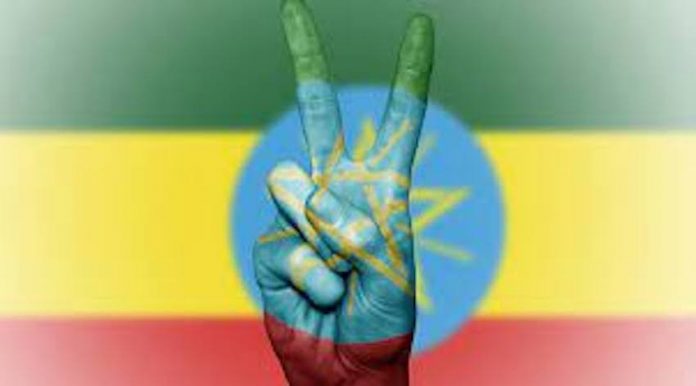 This week on COVID, Race, & Democracy from Pacifica Radio:The Ethiopian army has decisively defeated the insurrectionist Tigray People's Liberation Front, or TPLF. Last week in Pretoria, South Africa, representatives of the Ethiopian government and the TPLF signed an agreement formally ending the civil war and laying out a path forward. The US State Department issued a statement commending the agreement, but Western media and pundits were largely negative and especially critical of Eritrea, whom they accused of helping Ethiopia win the war. 
CNN ran a story in which Norwegian scholar Kjetil Tronvoll disparaged the peace deal and predicted its failure. At the top of the report they recycled a 2021 video alleging Eritrean atrocities, which was substantiated only by Tigrayan allegations.  
Michael Rubin, a former Pentagon official and current fellow at the American Enterprise Institute, called on the US to designate Eritrea a state sponsor of terrorism, which would trigger a new round of sanctions in addition to those the US imposed on Eritrea in November 2021. The 2021 sanctions include exclusion from the SWIFT system for executing financial transactions and payments between banks worldwide. The four nations now excluded from the SWIFT system are Russia, Iran, North Korea, and Eritrea. 
Eritrea's economic and political institutions do not mirror those of Europe and North America, and the country is often called the Cuba of Africa.
Ann Garrison spoke to Yemane Ghebreab, Advisor to Eritrean President Isais Afwerki, about the current US sanctions.  They spoke by phone while he was on the sidelines of the UN General Assembly in New York City in September. 
Ann Fitz-gerald, political science professor at Canada's Wilfrid Laurier University and Director of the Balsillie School of International Relations, said that Eritrea's role in the Ethiopian war has not been proven, and that the West should learn to cooperate with nations like Eritrea whose institutions differ from their own. 
***
The Biden Administration has said that it will support Luis Ignacio "Lula" da Silva and his coalition in Brazil. Brazilian labor activist Fabio Bosco spoke to Pacifica's Steve Zeltzer about the election. Bosco is a member of the  Brazilian Sindicato dos Metroviarios, the transport workers union, and of Conlutas, an independent  labor federation.
***
On Monday, October 24th, the United States Justice Department held a press conference to accuse China of breaking U.S. laws in its efforts to challenge U.S. power on the world stage. They charged several Chinese nationals with spying on behalf of Beijing and seeking to disrupt a U.S. government investigation into the Chinese technology company, Huawei.
In New Jersey, the FBI charged two Chinese nationals with conspiring to act as illegal agents on behalf of China by using a "purported academic center in that country to seek sensitive information from U.S. academic institutions," end quote, thus criminalizing working relationships between universities in the U.S. and China.
These indictments come on the heels of FBI raids targeting African and Puerto Rican organizers in the U.S., who are accused of acting as illegal foreign agents on behalf of Russia and of Cuba.
We hear from Omali Yeshitela, Chairman of the African Peoples' Socialist Party responding to the current wave of aggression by the U.S. Federal Bureau of Investigation targeting anti-colonial struggles. Our thanks to Black Power Talks from WBPU 96.3 FM in St. Petersburg, Florida for the content.
***
There are over 30,000 adjunct faculty at California's community colleges and many are angry about their living conditions. Some are called freeway flyers since they run from one college to another to teach.
Last month East Los Angeles Community College faculty member Khaled Hussain was removed from his position on the Executive Board of the American Federation of Teachers 1521, in Los Angeles. after fighting for better treatment of adjuncts. He spoke to Pacifica's Steve Zeltzer.
***
The Grand Convening Council of the American Indian Movement has organized a 15-week national walk to demand the release of political prisoner Leonard Peltier. The "Walk to Justice: Free Leonard Peltier" is traveling from Minneapolis through Wisconsin, Illinois, Indiana, Ohio, and Pennsylvania, ending in Washington, D.C. on November 14th. Lenny Foster of AIM spoke to KPFK's Michael Novick about the Walk to Justice.
For more information on the walk, follow the "Walk to Justice: Free Leonard Peltier" Facebook page. Rallies and events will be hosted along the walk and it will convene in Washington, D.C. on November 14.
And that concludes today's edition of COVID, Race, & Democracy. We thank all of Pacifica's sister stations and affiliates who contribute to the production of this show.  
Thanks for listening!
Credits:
Host: Ann Garrison
Producers: Steve Zeltzer, Polina Vasiliev, & Ann Garrison
Music:
Melake Abrham – Arha – ኣርሓ – New Eritrean Music 2021 (Official Video)
King Clave/Planet Drum Song featuring Mickey Hart from Playing for Change Around the World
"Hard Work" by John Handy
Prince, "Colonized Mind"