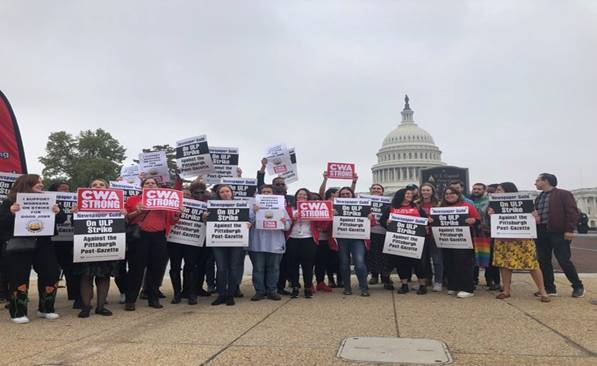 Listen to COVID, Race, & Democracy from Pacifica Radio:

A continuing scandal over racism, redistricting and gentrification is taking place in Los Angeles. Pacifica reporter Steve Zeltzer looked at the story behind the scandal and the connection to the redistricting manipulation and corruption in San Francisco with Dr. Nadine Diaz, a community activist in Boyle Heights  and an adjunct professor at California State University at Dominguez Hills,  Cliff Smith, Business Manager of LA Roofers Local 36 who is also on the Los Angeles Federation of Labor, and  Cheryl Thornton, SEIU 1021 Community Healthcare Vice President in San Francisco.
Racist Scandal At LA Fed Offices, Gentrification, Privatization & Union Busting & San Francisco
***
Florida remains a key battleground state in the war waged against our democratic rights by the far right. With DeSantis eyeing a presidential run in the near future, longtime community activist and radio host Ruth Beltran and cohost Ali Abdel-Qader along with St. Petersburg Tenants Union organizer Karla Correa analyze  the  DeSantis administration's racist, sexist, and anti-gay policies and their implications for the rest of the nation. We share a clip from The Ruthless Truth on WSLR, Pacifica Affiliate in Sarasota, Florida, looking at the issue of voting and other assault on our democratic rights.
***
As the strike of South African dockers continues, JV Dube,  the General Secretary of the Revolutionary Transportation Union of South Africa and ILWU Local 10 immediate past president Trent Willis talk about the strike and the history of the shipping companies.
***
Our reporter in Washington, DC, Thomas O'Rourke, reports concerning the on-going Pittsburgh Post-Gazette strike when it reached DC last week.
***
On October 26, rallies were held in Philadelphia and Oakland to call for a new hearing in the case of CWA NABET journalist, writer and imprisoned  political activist Mumia Abu-Jamal.
In Oakland at the Federal Building , Jack Heyman of the Labor Committee To Free Mumia Abu-Jamal and ILWU Local 10 member David Newton, the nephew of Huey P. Newton, spoke about why Mumia should be freed.
Free Mumia Now! Rally In Oakland  To Stop The Frame-up Of CWA NABET Journalist & Political Prisoner
***
In San Francisco, there has been a collapse of the payroll system for the school district's teachers, janitors and other service workers. The union president of SEIU 1021 for the San Francisco Unified School District Rafael Piccazo  also blamed the cutoff  of healthcare benefits for the death of  a member. The District has spent additional  millions of dollars on the  software program "Empower" which is being used for the payroll and failing to do the job. Producer Steve Zeltzer interviewed SFUSD workers about these issues.
Payroll Chaos Kills At SFUSD: UESF SEIU 1021 Workers Fed Up With "Empower" Program That Is A Wreck
***
And that concludes today's edition of Covid, Race & Democracy. We thank all of Pacifica's sister stations and affiliates who contribute to the production of this show. Today's program was produced by the executive producers of CRD, Akua Holt, Polina Vasiliev, and Steve Zeltzer and hosted by Akua Holt.
Thanks for listening!
Music:
"Nkosi sikelel-iAfrica," Teal Choir
Immortal Technique, "Homeland and Hip Hop feat. Mumia Abu-Jamal" 
Gil Scott Heron, "Washington, D. C. "