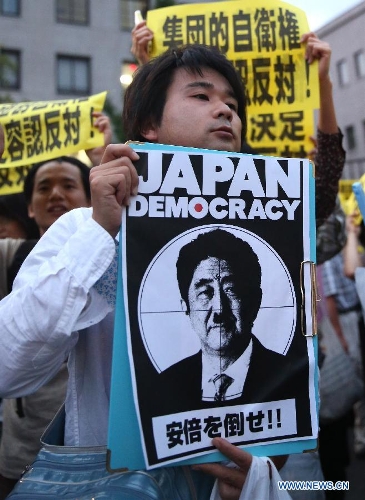 This week on COVID, Race, & Democracy:
The recent assassination of former Japanese Prime Minister Shinzo Abe by the son  of a Unification Moonie church adherent has  uncovered the deep role of Abe and his maternal grandfather, former Japanese Prime Minister Nobusuke Kishi, in this and other anti-communist political groups in Japan. Through the support of the CIA Abe's grandfather helped  found the Liberal Democratic Party or LDP, which has been in power for most of the  history of post war Japan. Kishi invited the South Korean  founder of the anti-communist unification church leader Moon Sun-myung to Japan in 1960's and used their members to set up operations in Japan where they recruited adherents and then drained them of their financial resources which were sent back to South Korea. 
Abe also has supported rightwing Shinto anti-communists groups that also support the full militarization of Japan including developing nuclear weapons and the elimination of Article 9 of the Japanese constitution which prevents offensive war. 
Producer Steve Zeltzer spoke last week with University of Connecticut professor Alexis Dudden who has studied modern Japan for more than 20 years.
***
The recent revelations of an organized insurrection and attempted coup by former president Trump and the collusion by the US Secret Service in this coup attempt has raised the issue of what the people of the United States should do about this. Vermont AFL-CIO president David Van Deusen recently spoke on a panel about the dangers of the growing fascist movement and why working people need to organize to defend all democratic and labor rights. The panel is at LaborFest.net.
***
The Texas Tribune reports … "For about three hours, people demanded the resignation of the school district superintendent and threatened to keep their children out of school until campus security is improved." 
The meeting was organized after a Texas House panel report found that several agencies and over 400 law enforcement officers were on site at Robb Elementary on May 24th during the mass shooting that resulted in the killing of 19 innocent children and 2 of their beloved teachers. The report also stated the response lacked coordination. More than an hour passed before Salvador Ramos, 18, was killed by law enforcement. The Austin American-Statesman released a recent video that  showed disturbing footage of inaction by a number of officers – while children in two classrooms were being killed.
One parent asked, "What are you going to do about your failures?" Are you going to take responsibility? Are you going to make this right?" 
According to the Texas Tribune, "The House report released Sunday said failures went beyond local police. The report said 376 law enforcement officers from several local, state and federal agencies lacked clear leadership, basic communications and sufficient urgency to take down the gunman. It found that in the absence of a strong incident commander, an officer from another agency could have — and should have — stepped up to the task."
***
The U.S. recently drone bombed southern Somalia, then claimed to have killed two members of the militant group al-Shabab. However, Amnesty International says that a number of US air strikes have killed Somali civilians. COVID, Race, & Democracy's Ann Garrison reports. 
***
Fridays for Future DC is part of a hopeful new wave of change, inspiring millions of people to take action on the climate crisis, and other critical issues. They gathered on Capitol Hill recently, to raise their voices concerning school shootings, abortion rights, climate change, and other critical issues. Here's Ester Iverim, producer / host of On The Ground, in the nation's capital. 
***
Today's program was produced by the executive producers of CRD, Akua Holt, Polina Vasiliev, and Steve Zeltzer. Host: Akua Holt.
Music:
Dee Dee Bridgewater – Children Are The Spirit (Of The World)
"What Happens When a Woman" by Alexandra Olsavsky
Terri Lynn Carrington Money Jungle