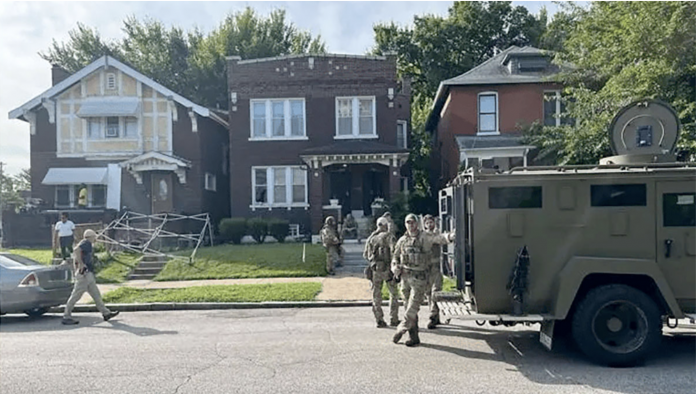 Listen to this week's COVID, Race, & Democracy episode from Pacifica Radio:
On Wednesday, January 25, the Public Safety Committee of the St. Louis, MO Board of Aldermen resolved to hold a public hearing with the FBI and local police to demand accountability around the violent, militarized raids on the Uhuru Movement in North St. Louis last summer. 
The St. Louis Police Department cooperated with the FBI raids against leaders of the well-known North City Black Power Blueprint program which has built a farmers market, community garden, a basketball court and black women's Doula trainings. This included a raid on the home of Uhuru Movement founder Omali Yeshitela, 81 years old. The raids sparked outrage from members of the community who spoke out in the Public Safety meeting. 
Penny Hess is the chairperson of the African People's Solidarity Committee, an organization of white people organizing in solidarity with the movement for the liberation of Africa and African people, under the leadership of the Uhuru Movement, led by the African People's Socialist Party. Penny is one of the four "un-indicted co-conspirators" identified in the violent, simultaneous pre-dawn FBI raids on July 29, 2022. She spoke with Polina Vasiliev via Zoom on Sunday.
Find Out More, Get Involved:
***
New College of Florida student activists are organizing against the hostile takeover of the school's board of trustees by ultra-right wing Ron DeSantis appointees.  Ali Abdel Qader of the show Ruthless Truth from Pacifica Affiliate WSLR in Sarasota, FL spoke to student activists Sam Sharf and Lex Daly.
***
San Francisco ILWU Local 10 has voted to close down all bay area ports on February 16 to demand the freedom of Mumia Abu-jamal. They have also reached out to the largest union in Africa the National Metal Workers Union of South Africa to join the action. They will be picketing the US embassy on Februrary 16 to also demand the release of Mumia Abu-jamal. They are also urging unionists and locals throughout the US and globally to join the action. Steve Zeltzer reporting from Durban South Africa interviewed ILWU Local 10 member David Newton, the nephew of Black Panther founder Huey Newton and Jack Heyman, a retired member of ILWU Local 10.
***
US drone strikes regularly hit Somalia, an East African nation situated on some of the world's most geostrategic trade routes. The US says it's drone bombing to eliminate the terrorist group Al Shabaab, but it's failed so miserably for 13 years that many, if not most Somalis believe that Al Shabaab is just an excuse for US military presence. In 2022, the US kept Somalia from instituting universal suffrage and re-electing a hugely popular president who was trying to build a sovereign military.  Pacifica's Ann Garrison spoke to Somali scholar Dr. Abdiwahab Sheikh Abdisamad, who says that the West has kept Somalis from holding a one-person-one-vote election, but that if they held one, the whole government would be swept out.
And that concludes today's edition of COVID, Race, & Democracy. We thank all of Pacifica's sister stations and affiliates who contribute to the production of this show. Today's program was produced by the CRD collective and hosted by Polina Vasiliev.
Thanks for listening!!!
Music:
Nina Simone, "I Wish I Knew How It Would Feel to Be Free"
Immortal Technique, "Homeland and Hiphop" – featuring Mumia Abu Jamal
Lobo Loco, "Maximum Respect for You"