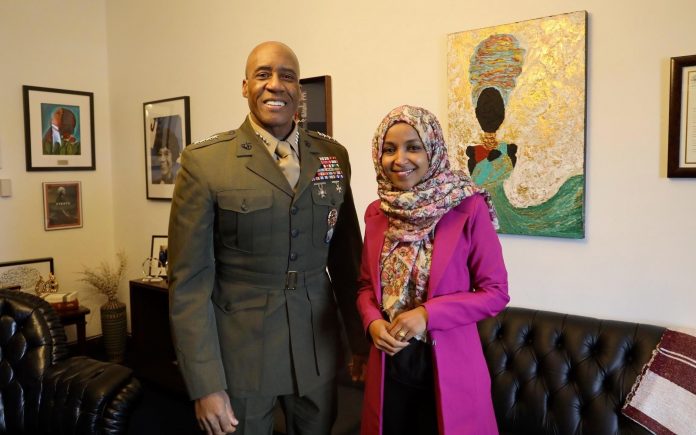 This week's COVID, Race, & Democracy from Pacifica Radio:
House Speaker Kevin McCarthy has made a Democratic Party martyr of Ilhan Omar, Minnesota's Somali American Congresswoman, by removing her from the House Foreign Affairs Committee, where she had been vice chair of the subcommittee on Africa.  Ilhan tweeted a lament that the African continent would lose its voice there with her removal, but Africans on Twitter responded that she had been terrible for Africa, most of all for the region she comes from, the Horn of Africa, and her native Somalia. During the devastating two-year Ethiopian civil war that ended in December, she supported the Tigray People's Liberation Front, a longtime US puppet, and excoriated Ethiopia and its ally Eritrea. 
With regard to her native Somalia, she voted against debt relief, and called for "carrot and stick" coercion to force elections which were engineered to remove the hugely popular President Mohammed Abdullahi Mohammed, aka Farmaajo.
Host Ann Garrison spoke to Ajamu Baraka, Black Agenda Report Editor and Columnist and Founder of the Black Alliance for Peace, about Ilhan's removal from the Foreign Affairs Committee.
***
Apple Whistleblower Ashley Gjøvik was fired after complaining about the dangers of her building being on top of a toxic superfund site in Silicon Valley. She went to OSHA and the EPA and discovered that Apple had captured these agencies and even hired former EPA Administrator Lisa Jackson to do damage control at Apple. OSHA officials, according to Ashely, were actually colluding with Apple to suppress her health and safety complaints. She is still trying to contact Biden's US labor secretary Marty Walsh about this internal corruption.
Last week she won an NLRB ruling that Apple had illegally attempted to stop her from discussing health and safety issues along with work issues. She spoke to Pacifica's Steve Zeltzer.
***
This year is the 86th anniversary of the Flint General Motors sit-down strike for a union. UAW member Jean Anderson from Flint, Michigan talked about the role of women and Black workers in the sit-down strike and why the fight against racism is a fight for all workers. The women's brigade also played a critical role in breaking windows of the plant so the workers would not be driven out by the tear gas that was being fired into the plant to drive the workers out. They will have an online event on February 11 with the documentary film Babies and Banners about the role of the Women's Brigade.
A strike by a local of the Amalgamated Transit Union in suburban Washington DC is now in its fourth week with pressure building.  A Teamster local in another DC suburb recently voted to strike as well although leadership has not yet called them out. Thomas O'Rourke of Pacifica station WPFW spoke to the striking workers.
***
In a recent memo titled, "February 2023 Orders in Preparation for — The Next Fight", four-star General Mark Minihan wrote  to his troops, "I hope I am wrong. My gut tells me we will fight in 2025. [Chinese President Xi Jinping] secured his third term and set his war council in October 2022. Taiwan's presidential elections are in 2024 and will offer Xi a reason. United States' presidential elections are in 2024 and will offer Xi a distracted America. Xi's team, reason, and opportunity are all aligned for 2025."On Fox News' Tucker Carlson Tonight, comedian Jimmy Dore spoke about the US provoking a war with China.
And that concludes today's edition of Covid, Race & Democracy. We thank all of Pacifica's sister stations and affiliates who contribute to the production of this show. Today's program was produced by the CRD collective and hosted by Ann Garrison.
Thanks for listening! 
Music:
Staple Singers , "I'll take you there"
Flora Purim, "Open your eyes, you can fly"
Joe Glazer, "We Shall Not Be Moved / Roll the Union On"
Buffalo Springfield, "For What it's Worth"