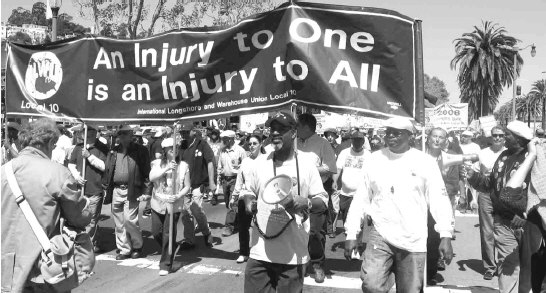 May Day, May1st, is International Workers Day. In this week's show we hear from working people from across the globe. Many are facing new challenges because of the COVID-19 pandemic.
We dedicate this program to healthcare worker and ER technician Breonna Taylor who was murdered last year in her home by Louisville Police.  
Thousands of trade unionists and supporters of May Day rallied in San Francisco. It included all Bay Area Labor Councils and it was led by Angela Davis, author, scholar, and activist, and Trent Willis, president of the International Longshore Workers Union, ILWU Local 10. 
In 1992, Labor historian Howard Zinn, gave a talk on the Hidden History of the US Working Class. Some of that talk is shared here.
Pacifica's Steve Zeltzer spoke with Vermont AFL-CIO President David Van Deusen about the issues working people face on May Day 2021. 
Under President Jair Bolsonaro, Brazilian workers are facing catastrophic consequences of the COVID-19 pandemic. Fabio Bosco, a Sao Paulo transit worker and member of the independent trade union federation Con Lutas, talks about the pandemic and the government's responsibility. Listen to a longer interview by Steve Zeltzer here.
The economy of  Argentina faces a growing threat of bankruptcy and is, yet again, virtually under control of the International Monetary Fund.  Argentine Workers Party leader Guillermo Kane reports on the struggles of working people and unions in this contest. 
We hear from Rochester labor musician Matt Seidel.
New York CWA Cablevision techs recently went on strike for a union and produced a rap song about their struggle for justice on the job. Unfortunately their union efforts were defeated and the strike was broken.
Bill Clause is a volunteer producer at KKFI Community radio in Kansas City Missouri. He is a labor activist who has collaborated with labor artists . He was a close friend and associate of the great labor songwriter singer Anne Feeney. He offers a tribute to Ms Feeney.
CREDITS
Host: Tia Marie, of Pacifica affiliate WXOX 97.1 FM – Louisville, Kentucky.
Produced by Steve Zeltzer, Polina Vasiliev, and Ann Garrison.
Executive Producers: Akua Holt, Polina Vasiliev, and Steve Zeltzer.
Links to additional audio and video
Matt Seidel Songs For May Day 2021
Time For Labor Unity On May Day 2021! Voices & The March In San Francisco Of Trade Unionists
On May Day 2021 ILWU Backs Chilean Dockers In San Francisco! Solidarity Has No Borders
2021 May Day San Francisco ILWU Marches & Supports Chilean Dockworkers & Angela Davis Speaks Out
CWA Cablevision techs rap about their struggle for justice on the job with their latest song Strike!
Howard Zinn On The Hidden History Of The US Working Class
WW 3-29-21 Brazilian Workers Face Covid, Bolsonaro, Racism & Privatization
Working Class Hero by John Lennon