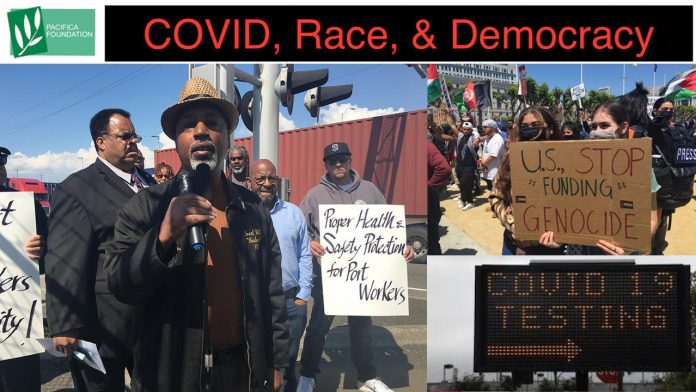 On Labor Day 2021 US workers are facing both COVID and massive floods. There is also a growing wave of labor strikes, from Alabama miners, who have been out for more than 5 months, to the Nabisco workers who went on a national strike  in August.
On August 10th, over a thousand unionized bakery plant workers at four Nabisco plants went on strike. They make Oreos, Ritz and Chips Ahoy in five states across the country. Nabisco, is part of a multinational food conglomerate called Mondelez which has closed multiple facilities and laid off thousands while sending jobs to Mexico and other countries. Striking  Bakery, Confectionery, Tobacco Workers, and Grain Millers International Union workers talked about how the company is trying to bust their union. Audio by A More Perfect Union.
In San Francisco, students, UESF teachers and SEIU staff are being told to go back to work without testing protocols, proper masks, and windows that work. We recorded voices from a rally last week on August 31 demanding COVID health and safety protocols to save lives.
The rise of fascism around the world is a serious danger to working people according to Vermont AFL-CIO president David Van Deusen. Pacifiica's Steve Zeltzer spoke to him about what labor needs to do to fight it.
US trade unionists are fighting to defend Palestinians workers and their families who are under attack. Resolutions have been passed throughout the country by many union locals including the American Federation of Teachers, City University of New York-Professional Staff Congress, and Communication Workers of America United Professional and Technical Employees. Thomas O'Rourke of WPFW interviewed CUNY professor Carol Lang about her struggle for the rights of Palestinian workers.
The deaths of over 157 New York public transit workers from COVID was catastrophic. Now, this past week, these same public transit workers are fighting a massive flood caused by global warming. Pacifica heard from TWU, Local 100 train operators Anthony Steinniger and Tom Grattemeyer.
Seven hundred Los Angeles International Longshore Workers Union Local 13 longshore workers have become infected with COVID and 13 have died, slowing work on the docks. KPFK's Margaret Prescod of Sojourner Truth interviewed ILWU Local 13 President Ramon Ponce de Leon about the failure to protect workers from COVID and the chaos in our transportation system.
The defeat of the United States in Afghanistan after a 21-year war raises the question of what role labor should and is playing internationally. Pacifica's Steve Zeltzer interviewed Professor Kim Scipes about the role of the AFL-CIO's Solidarity Center, which receives more than $30 million a year from the US National Endowment For Democracy. Scipes asks if this is what US workers need or really even know about.
Credits:
We thank all of Pacifica's sister stations and its radio affiliates who contribute to the production of this show. Today's show was produced by Steve Zeltzer, with help from Ann Garrison and editing by Polina Vasliev.
Our executive producers are Akua Holt, Polina Vasiliev, and Steve Zeltzer. 
Music:
"Jive Soweto" by Sipho 'Hotstix' Mabuse 
"Never Cross A Picket Line" by Billy Bragg
"Bomb the World" by Michael Franti
"No Justice For Working Men" by Mickey O'Brien
"La Maza" by Mercedes Sosa