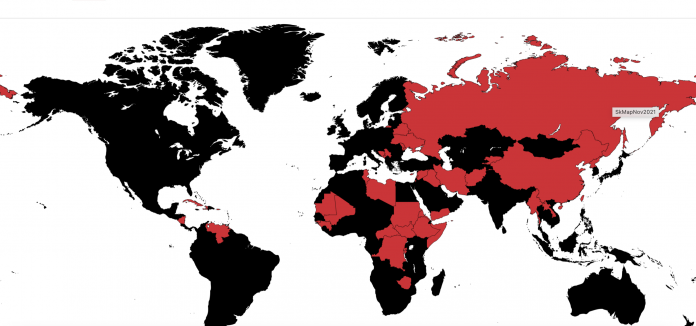 What are sanctions? Here's the Sanctions Kill Coalition's summary description:
"The EU and US pass laws to ban, block, or restrict trade to a specific country, group, or individual when they do not comply with US and EU foreign policy. Currencies are devalued and inflated when sanctions are levied, international credit ratings tank, and countries are pressured to stop doing business with sanctioned countries. 
"The first sectors affected are usually medicines, the cost of food, power, water treatment, and other essential human needs.
"Because the United States holds trade, banking, and military dominance in most of the world, US sanctions have killed millions of vulnerable people.  
"These sanctions violate international law, the UN Charter, and the Geneva and Nuremberg Conventions because they target civilians by economic strangulation, creating famines, life threatening shortages, and economic chaos." 
In this edition of "COVID, Race, and Democracy," we'll look into specific examples. 
1) Dr. Margaret Flowers is a medical doctor, co-chair of the Sanctions Kill Coalition, and  co-founder of Popular Resistance, a resource and information clearinghouse for anti-capitalist and social justice movements. I spoke to her about sanctions in Latin America. 
The Sanctions Kill Coalition includes the International Action Center, Black Alliance for Peace, United National Antiwar Coalition, Code Pink, and many more.
2) Dr. Kee B. Park is a Harvard Medical School neurosurgeon who volunteers in the Democratic People's Republic of Korea, otherwise known as North Korea. He spoke during a 2020 Sanctions Kill webinar. The entire webinar is on the Sanctions Kill website.
3) "We don't deserve this!: The Impact and Consequences of US Sanctions" is the title of a report from the Sanctions Kill Coalition published in September. It includes testimonies from people who live in countries impacted by US economic warfare. Pacifica-KPFK staff voice the statements of sanctioned people from around the world. You can read and download the full report "We don't deserve this – The Impact and Consequences of US Sanctions," at sanctionskill.org.
4) On September 17, President Joe Biden issued "Executive Order on Imposing Sanctions on Certain Persons With Respect to the Humanitarian and Human Rights Crisis in Ethiopia".  The document itself said that the Treasury Department would be able to impose sanctions on "any government entity or political party," meaning most obviously the Ethiopian and Eritrean governments, which US and allied officialdom, and their stenographic press, have vilified since the first week of November 2020. That's when the Tigray People's Liberation Front attacked a federal army base, and the federal army had the audacity to respond, even though the TPLF is a longstanding US ally.
Cries of "Tigray genocide" appeared on social media the same day. USAID Chief Samantha Power and friends then launched a crusade for censure, sanctions, maybe even military intervention. The TPLF carried their war from Tigray Region into Amhara region, but the suffering of the Amhara has not entered the official narrative.  I spoke to Jemal Countess, photographer and human rights investigator on the ground in Amhara.  
Last week, the World Food Program acknowledged that 428 of the 466 massive flatbed trucks full of food aid have inexplicably disappeared into Tigray Region since July 12.  Nevertheless, the WFP keeps demanding more trucks for Tigray, but none for Amhara.  International financial authorities have already destroyed Ethiopia's credit rating as the US threatens more extreme sanctions.
5) Cuban President Miguel Diaz-Canel addressed the United Nations General Assembly, by video from Havana, on the 23rd of September this year. He denounced not only the US blockade of Cuba, but also the unilateral coercive measures applied to other countries that dare to challenge the so-called rule-based order dictated by Washington and its allies.
Special thanks to Alex Kane Shapiro at KPFK-Pacifica Radio in Los Angeles, for voicing the translation of President Diaz-Canel's speech.
We thank all of Pacifica's sister stations and its radio affiliates who contribute to the production of this show. Special thanks to Linda Perry, Anet Aguilar, Gillian Omotoso, Lisa Davis, and Gwen DeBrow. This week's show was produced by Polina Vasiliev and myself, Ann Garrison. 
Our executive producers are Akua Holt, Polina Vasiliev, and Steve Zeltzer. 
You can find this and all previous episodes here on our website "covidtaskforce.pacifica.org." Make sure you click the subscribe button. You can follow us on Twitter at @PacificaCRD and on Facebook at "Covid Race and Democracy."
Links:
"We don't deserve this" The Impact and Consequences of US Sanctions
Transcript of the statement by Cuban President Miguel Díaz-Canel Bermúdez at the United Nations General Assembly