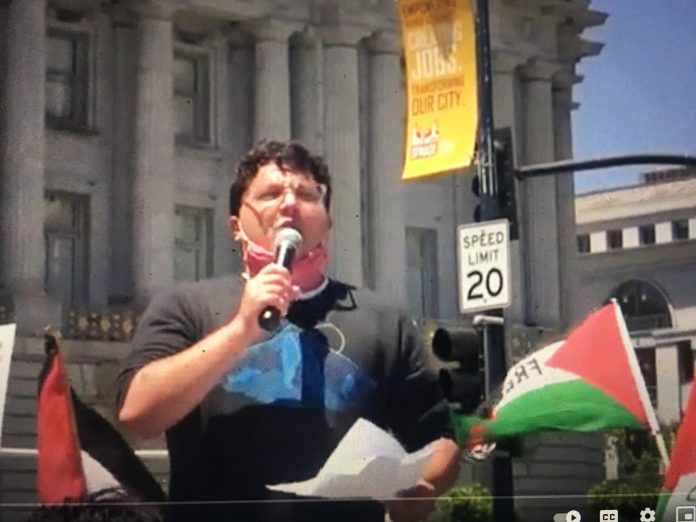 We look at the growing attacks on Palestinian professors and students throughout the US and the role of tech companies in censoring and shutting down classes and panels on the Palestinian struggle.
Can we have democratic debate and democracy when state and private institutions use their power to sanitize the viewpoint of Palestinians?
And an update on the Columbia University United Auto Workers graduate student strike.
San Francisco State University graduate Noura Khouri about the decade long attacks on the Arab and Muslim Ethnicities and Diasporas (AMED) Studies program
Rashid Khalidi, Edward Said Professor of Modern Arab Studies at Columbia University and director of the Middle East Institute of Columbia's School of International and Public Affairs interviewed by Thomas O'Rourke (WPFW).
Jess Ghannam and Jamal Dajani, co-hosts of Arab Voices (KPFT), interviewed Dr. Rabab Abdulhadi about SFSUs acceptance of Big Tech censorship of academic discussion, and its complicity with Zionist organizations.
David Miller is a sociologist and until recently, was a professor at Bristol University in the United Kingdom. He was fired on October 1 allegedly for anti-Semitism. Producer Steve Zeltzer interviewed him about his firing and the history of the effort by the supporters of Israel to terminate him.
Additional media:
President Mahoney upholds the University's acceptance of Big Tech's increasing control over academic discussion, and its complicity with Zionist organizations.
https://mondoweiss.net/2021/11/sfsu-president-sides-with-tech-giants-on-silencing-of-palestinian-voices/?fbclid=IwAR1wSs7bWE0zYuPTgtikUrXr_2mau3Ht9qULw1OMhlOTgVQF1YzPWQAlERA
 ZOOM CENSORSHIP OF PALESTINE SEMINARS SPARKS FIGHT OVER ACADEMIC FREEDOM Zoom cited anti-terrorism laws to shut down an event with Palestinian activist Leila Khaled — and other events criticizing its censorship. 
https://theintercept.com/2020/11/14/zoom-censorship-leila-khaled-palestine/
Zionism & The Firing Of UK University of Bristol Sociologist David Miller
 Professor Miller's sacking by Bristol University
https://electronicintifada.net/blogs/asa-winstanley/professor-david-miller-fired-after-israel-lobby-smear-campaign
We must resist Israel's war on British universities
https://electronicintifada.net/content/we-must-resist-israels-war-british-universities/32391
Zionist Attacks On SFSU AMED Arab & Muslim Ethnicities & Diasporas Program, The CFA & Labor
https://www.youtube.com/watch?v=7X3uf0pozf4&t=327s
Rally Demands Justice For SFSU Professor Rabab Abdulhadi, Palestinian Students & Ed Program
https://www.youtube.com/watch?v=Y_vQivvbXX4&t=22s
SF Community Labor Rally Defends Palestinian Professor Rabab Abdulhadi Against Zionist Lawsuit
https://www.youtube.com/watch?v=YzszkB1fGT4&t=8s
We Stand With David Miller
Works of David Miller
A Century of Spin: How Public Relations Became the Cutting Edge of Corporate Power by David Miller
Co-author of  What is Islamophobia?: Racism, Social Movements and the State, Narzanin Massoumi, Tom Mills, David Miller (Pluto Press, 2017)
SFSU President sides with tech giants on silencing of Palestinian voices
https://mondoweiss.net/2021/11/sfsu-president-sides-with-tech-giants-on-silencing-of-palestinian-voices/?fbclid=IwAR1wSs7bWE0zYuPTgtikUrXr_2mau3Ht9qULw1OMhlOTgVQF1YzPWQAlERA
Credits:
Producer: Steve Zeltzer, with assistance from Ann Garrison and Polina Vasiliev
Host: Tia Marie Coatley, WXOX, Louisville, KY
Executive producers: Akua Holt, Polina Vasiliev, and Steve Zeltzer
Music:
"Al Kufiyyeh 3arabeyyeh" by Shadia Mansour
"Boycott Israel" by Immortal Technique