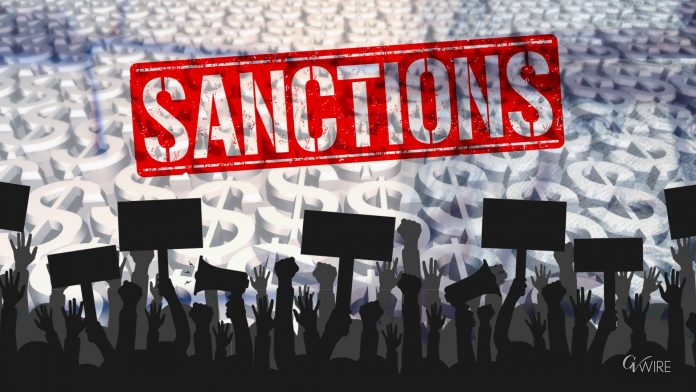 The word "sanction" is one of many derived from the Latin "sanctionem." In the 16th century it referred particularly to ecclesiastical decrees. Over time it accrued various meanings, often radically contradictory, as are the derivatives sacrosanct and sanctimonious. Today Merriam Webster's first definition is "an action that is taken or an order that is given to force a country to obey international laws by limiting or stopping trade with that country, not allowing economic aid for that country, etcetera."
In fact, most of today's sanctions are actually violations of international law as defined by the UN Charter, which stipulates that only the UN Security Council has the legal authority to impose them. They are better known as unilateral, coercive, and often lethal measures that the US and its European allies impose to subjugate weaker nations who attempt to chart an independent path. Nations like Nicaragua, Venezuela, North Korea, Ethiopia, and Eritrea. In this episode, we hear from representatives of each of these sanctioned nations.  These are excerpts of a webinar produced by the Sanctions Kill! Coalition on January 23rd.  
We hear from:
*Sanctions Kill! organizer Sarah Flounders
*Carlos Ron – Venezuelan Vice Minister for North America
*Francisco Campbell, Nicaraguan Ambassador to the US
*Deacon Yoseph Teferi – Chairman of the Ethiopian American Civic Council
*Eritrean American journalist and host of Horn of Africa TV
*Erica Jung of the Korean grassroots organization, Nodutdol
Iranian Foad Izaadi, Associate Professor at the University of Tehran sent a statement to the webinar, but he was unable to join because, according to the Zoom website, Iran is among the regions or countries who are "unable to access Zoom for regulatory reasons." The others are Cuba, Syria, North Korea and Crimea.  
These are audio clips from Jan 23, 2022 webinar. The entire event is The World Stands Up to Sanctions on the YouTube.
*More information about the Sanctions Kill Coalition can be found at www.sanctionskill.org.
We thank all of Pacifica's sister stations and affiliates who contribute to the production of this show. You can find this and all previous episodes at our website. Make sure you click the subscribe button. You can follow us on Twitter @PacificaCRD and on Facebook, @CovidRaceandDemocracy. 
Credits:
Host: Ann Garrison
Producers: Ann Garrison and Polina Vasiliev
Exec. Producers of the series: Akua Holt, Polina Vasiliev, Steve Zeltzer
Music credits:
"Lives in the Balance" by Richie Havens 
"One Love" by Manu Chao and Playing for Change
"Venezuela" by Argentinian hip hop artist Daniel Devita
"No More" by Embi