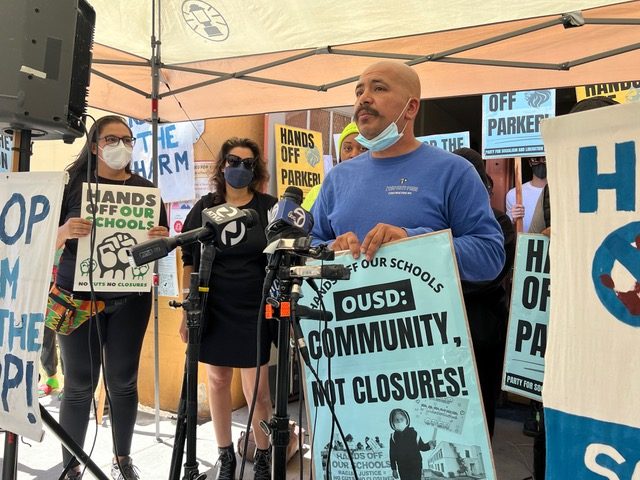 This week on COVID, Race, & Democracy:
"I have hope for humankind. It is my hope that a new human being will evolve so that needless pain and suffering, poverty, exploitation, racism, and injustice will be things of the past."  – Albert Woodfox
Black Panther Party member Albert Woodfox, was an activist and author who was caged in solitary confinement for 44 years, in a Louisiana State Prison, formerly known as Angola on armed robbery charges in 1965. Woodfox was wrongfully convicted of the 1972 murder of prison guard Brent Miller, along with the late Herman Wallace. Wallace and Woodfox, along with Robert King, became the Angola 3 political prisoners. The prison was located on the site of a former plantation called Angola, after the African country from which most of the plantation's enslaved people had been captured.
According to The Guardian, his conviction for Miller's murder was overturned multiple times throughout his solitary confinement. 
The warden of Angola admitted under oath in legal depositions that they were being held in CCR (closed cell restricted"  –  where prisoners were locked up alone for at least 23 hours a day), because of their "Pantherism". Woodfox gained his freedom on his 69th birthday in 2016 after a plea deal to lesser charges.  He spent the next six years educating the U.S. and world on the horrors of the criminal justice system and advocating against solitary confinement. Woodfox said the strength and determination of his beloved mother, Ms. Ruby Mable Hamlin instilled in him to keep going. We hear from veteran journalist and host of Democracy Now, Amy Goodman along with Albert Woodfox. He made his transition on Thursday, August 4, 2022 from coronavirus complications according to his lawyers, George Kendall and Carine Williams, and his brother Michael Mable.  Woodfox was also an organizer and educator who  taught people how to read and write while in prison. Find out more about Mr. Woodfox by reading his 2019 memoir, which was a finalist for the Pulitzer prize, Solitary: Unbroken by Four Decades in Solitary Confinement. My Story of Transformation and Hope.
***
Last week COVID, Race, & Democracy reported on the FBI raids of the African Peoples' Socialist Party Uhuru House in St. Petersburg, Florida and the Uhuru Solidarity Center in St. Louis, Missouri. The raids were conducted as part of the indictment of a Russian national accused of acting as a foreign agent in the U.S. But the FBI's actions are part of an old U.S. playbook targeting Black radical organizations which assert their rights to speak in opposition to U.S. policies domestically and internationally.  Omali Yeshitela is chairman of The African People's Socialist Party, and leader of the Uhuru Movement and the Black is Back Coalition. He spoke with Margaret Kimberley on Black Agenda Radio.
The Uhuru Movement remains steadfast in defending the rights to free association and free assembly that Americans are supposed to have. As Margaret Kimberley wrote in the Black Agenda Report: "One need not be familiar with every aspect of the African People's Socialist Party program in order to defend them at this juncture. They are the first but they will not be the last. Every individual or organization which has publicly condemned U.S. policy, visited a nation which the U.S. doesn't like, or communicated with individuals or groups in those places, is at risk of being awakened by flash bang grenades and having electronic devices confiscated like APSP members last week. The word solidarity must now take on a very serious meaning."
***
In an effort to stop the closure of the Oakland Unified School District Parker Elementary school and ten other public schools, parents, teachers and students have occupied Parker for more than 75 days. They have turned it into a liberation school. On Thursday August 4th security guards attacked and beat parents and community supporters. Dozens of nearby community members rallied and stopped the violent attempt to close the school. On Friday the organizers and supporters called a press conference and spoke out about the closure of the school, racism, privatization and charters destroying public education.
For more information, visit linktr.ee/ParkerforthePeople or www.slapbayarea.org.
STOP OUSD Security Assault: Parents & Community Members At Parker Liberation School Press Conference
***
Christian Extremists in the United States have embraced Political Violence, according to Frederick Clarkson of Political Research Associates. Clarkson is a senior research Analyst with Political Research Associates and  he spoke with  Scott Harris on Between The Lines, a show from WPKN 89.5 FM, Pacifica Affiliate in Bridgeport, CT.
***
The use of technology to spy on workers is now expanding to not only tracking workers' every move but also registering the heartbeat, sweat and emotions of workers on the job. Professor Peter Mantello who teaches in Japan has been studying empathetic surveillance and what this means for working people. He has written a paper called The Machine That Ate Bad People.
Pacifica's Steve Zeltzer interviewed Mantello about what these technologies are and their dangers in the workplace.
More information:
Machine That Ate People:Tech, Spying  Emotions, AI, Algorythms & Worker's Dystopia
The machine that ate bad people: The ontopolitics of the precrime assemblage
Credits:
Host: Akua Holt
Producers: Akua Holt, Polina Vasiliev, and Steve Zeltzer
Music:
Gil Scott Heron I THINK I'll CALL IT MORNING 
Terri Lyne Carrington and Social Science – Trapped in the American Dream ft. Kassa Overall
Sweet Honey in the Rock – Would you harbor me
The Yussef Dayes Experience – Live At Joshua Tree (Presented by Soulection)