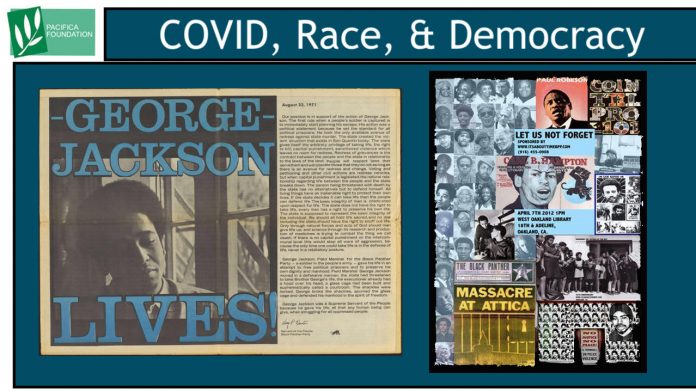 Black August first originated in the 1970s in the California prisons to honor fallen revolutionary Freedom Fighters, George Jackson and his brother Jonathan Jackson, Khatari Gaulden, James McClain, and William Christmas.
Jonathan Jackson was gunned down outside the Marin County courthouse on August 7, 1970 as he attempted to take hostages in a plan to negotiate the release of his brother, George Jackson. This action liberated three imprisoned freedom fighters James McClain, William Christmas and Ruchell Magee. Ruchell Magee is still imprisoned, and is the sole survivor of the Marin County Rebellion.
*From the Freedom Archives, we hear "The Struggle Inside: the Murder of George Jackson," narrated by Jonathan Jackson Jr. Find the full original version here.
*From the People's War Radio show (WBPU 96.3 fm Black Power 96 in St. Petersburg Florida), Dr. Matsemela Odom and Dexter Mlimwengu share voices in the struggle for the release of political prisoners, in honor of Black August.
*Davey D (Hard Knock Radio, KPFA) speaks with Monifa Bandele of the Malcolm X Grassroots Movement about the spirit and evolution of Black August and the call to free all political prisoners.
Links:
Political Prisoners in the USA
In Memory of Albert Woodfox
Albert Woodfox, held in solitary confinement for 43 years, dies aged 75
CREDITS:
Host/producer: Akua Holt
Producer/editor: Polina Vasiliev
Executive Producers: Akua Holt, Polina Vasiliev, and Steve Zeltzer
Special thanks to the Pacifica Covid Task Force
Music by Steel Pulse and Fela Kuti
Special thanks to the Pacifica Covid Task Force.