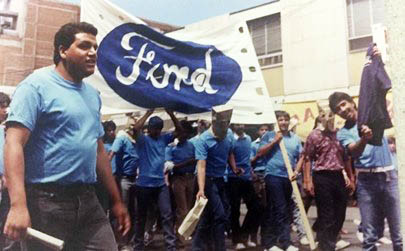 January 8, 2023 is the 33rd anniversary of the brutal attack on Mexico Ford Cuautitlán Assembly  plant.  A gang of 150 thugs were brought into the plant to attack the workers and many were injured and one was killed. Later it was learned that the attack was financed, organized and supported by the US government, CIA and the leadership of the AFL-CIO which was taking money from the National Endowment For Democracy.
The AFL-CIO today gets $75 million for its "Solidarity Center". Frank Hammer, a retired United Auto Workers Local 909 president from Detroit, talks about this anniversary and what auto workers have to do this year as all auto contracts expire.
Learn more, get involved:
Labor Education Project On AFL-CIO International Operations
The 1990 Attack On Mexican City Ford Assembly Workers With UAW Retiree Frank Hammer & The Lessons For Today
Matt Witt The  On 33rd Year Anniversary Of Mexico Ford Workers Attack By US CIA AFL-CIO
***
Hundreds of thousands of New York city retirees face an frontal attack on their healthcare benefits through privatization of their medicare retirement. There have already been protests against these attacks. Pacifica's Steve Zeltzer spoke to retired professor Carol Lang (AFT PSC).
Learn more, get involved:
NYC Politicians War On NYC Retirees and Active Workers
With Babies and Banners: Story of the Women's Emergency Brigade (1979)
***
The Electronic Intifada is an independent news outlet dedicated to the Palestinian struggle for self-determination.  Hosts of the Electronic Intifada Podcast Nora Barrows-Friedman and Asa Winstanley were recently joined by Executive Director Ali Abunimah to talk about some of the top stories of 2022, including Israel's escalating violence against Palestinians, the rise to power of the extreme far right, the resurgence of Palestinian resistance and global solidarity, Israel's murder of Al Jazeera journalist Shireen Abu Akleh, the state of journalism and ongoing Western complicity in Israel's apartheid system.
***
One of the worst humanitarian crises in the world is in the Democratic Republic of the Congo, where more than 26 years of invasion and war have driven five and a half million people into internally displaced persons camps and more than a million refugees into neighboring countries. Pacifica's Ann Garrison has more.
***
Dr. Aseem Malhotra, a British cardiologist, had been a verbal proponent of the Covid 19 vaccines – until the sudden death of his famous father right after receiving the Pfizer vaccine. Malhotra grew up in a family of doctors, his father was the first Asian to be elected as honorary vice-president and deputy chair of the council of the British Medical Association, which represents more than 150,000 doctors in the UK. After his father's tragic death, Dr. Malhotra started his own research into the safety of COVID vaccines. In his recent peer reviewed paper, he critically re-evaluates the true benefits and potential harms of the Covid shots. Russell Brand spoke with him on his show.
And that concludes today's edition of COVID, Race, & Democracy. We thank all of Pacifica's sister stations and affiliates who contribute to the production of this show. Today's program was produced by Akua Holt, Polina Vasiliev, and Steve Zeltzer and hosted by Akua Holt.
Music
Somos Mas Americanos," Los Tigres del Norte
Ball Of Confusion (That's What The World Is Today)