Whether deemed "essential workers," first-responders, or simply forced by economic necessity to keep working under pandemic conditions, or facing unemployment or loss of so-called "gigs" without adequate social and financial support, workers are on the front lines of the coronavirus pandemic and its consequences. Yet corporate media coverage, and federal corporate oriented bailouts have focused on the costs to businesses and their owners, not on the people who make businesses run and whose labor is the basis of the economy. Pacifica will be shining a spotlight on the stories of the working people who are confronting this crisis with concerted solidarity and militant action.
Washington State Farmworkers Become COVID-19 Guinea Pigs, by David Bacon
https://davidbaconrealitycheck.blogspot.com/2020/05/washington-farmworkers-become-covid-19.html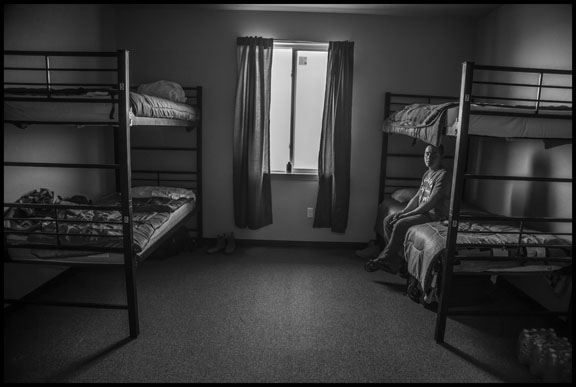 A room in a barracks for H-2A workers in Central Washington
EXCERPT:
On March 12 an H-2A visa guest worker living in a Stemilt Growers 
barracks in Mattawa, Washington, began to cough.  He called a hotline, 
was tested and found out he had COVID-19.  He and five of his coworkers 
were then kept in the barracks for the next two weeks.
A month later three Stemilt H-2A workers in a barracks in East Wenatchee 
began to cough too.  Before their tests even came back, three more 
started coughing.  Soon they and their roommates were all in quarantine. 
  Doctor Peter Rutherford of the Confluence Health Clinic called Stemilt 
and suggested that they test all 63 workers in the barracks. 
Thirty-eight tested positive.  Then some of those workers who'd tested 
negative began to test positive too.
Since the H-2A workers infected in the Stemilt barracks arrived in 
February, and didn't manifest symptoms until March and April, they must 
have contracted the virus in the U.S.  Guest workers, therefore, are 
getting infected once they arrive.
The novel coronavirus continues to spread throughout Central Washington. 
  By mid-May rural Yakima County had 1,203 cases – 122 reported on May 
15 alone – and 47 people had died. The county has the highest rate of 
COVID-19 cases on the West Coast – 455 cases per 100,000 residents. For 
over a week now, hundreds of workers in the same area have been walking 
out of the apple packing sheds to demand better protections and more 
money for working in a situation where they may be exposed.  Two have 
now begun a hunger strike.
David Bacon is a California writer and documentary photographer. A former union organizer, today he documents labor, the global economy, war and migration, and the struggle for human rights. His latest book, In the Fields of the North / En los campos del norte (COLEF / UC Press, 2017) includes over 300 photographs and 12 oral histories of farm workers. Other books include The Right to Stay Home (Beacon Press, 2013).and Illegal People (Beacon Press, 2008), which discuss alternatives to forced migration and the criminalization of migrants. Communities Without Borders (Cornell/ILR Press, 2006) includes over 100 photographs and 50 narraatives about transnational migrant communities, and The Children of NAFTA (UC Press, 2004) is an account of worker resistance on the US/Mexico border in the wake of NAFTA.