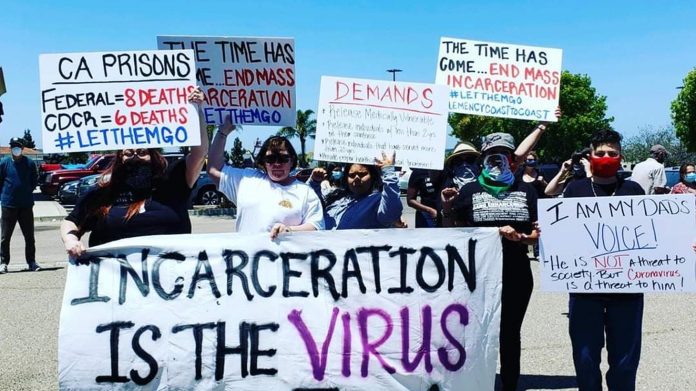 LISTEN TO THE FULL SHOW HERE:
In this episode, we focus on the deadly impact of COVID-19 on people incarcerated in U.S. jails, prisons and immigrant detention centers, the trauma to their families and communities, and the fight for their freedom. 
Segment 1: Long-Term Prisoners
Prepare to enter the heart and soul of JEROME WRIGHT, who served over 30 years in New York prisons before becoming a leading activist for ending solitary confinement and a mentor for newly released prisoners. He vividly describes the terrifying impact of the pandemic, especially on the thousands of long-term prisoners like his friend David Gilbert, a political prisoner now in his 40th year of incarceration.   
Learn more, get active:
Jerome Wright, Campaign to Halt Solitary Confinement, and The MAN Program, www.nycaic.org
Clemency campaign for David Gilbert: friendsofdavidgilbert.org
Full 25-minute version of this segment: flashpoints.net (11/20/20 program)
Segment 2:  Elder Prisoners
"The first victims of mass incarceration were the elders, and now they face death by incarceration in a pandemic."  That's real talk from JOSÉ SALDAÑA, a former member of the New York City Young Lords Party, and a former political prisoner confined for 38 years.  Now as the dynamic director of RAPP (Release Aging Prisoners Now) he is a driving force behind pending legislation to free elder prisoners.
Learn more, get active:
José Saldaña, Release Aging Prisoners Now, rappcampaign.com
Segment 3: Immigrant Detention, Deportation, and COVID Exportation
Immigration detention centers have become a hotbed of COVID 19 infections, where ICE's failure to release detainees has led to over 245,000 infections in the U.S.  North Miami City Clerk and attorney VANESSA JOSEPH reveals the pandemic's devastating effects on detained immigrants, and the callous exportation of the virus back to their home countries when they are deported.
Learn more, get active:
Segment 4: Families of Prisoners
Millions of anguished families struggle to stay in close relationship with their loved ones behind bars despite the pandemic.  SOFFIYAH ELIJAH, Executive Director of Alliance of Families for Justice, describes her organization's work to support families of incarcerated people and people with criminal records, empower them as advocates, and mobilize them to achieve systemic change.
Learn more, get active:
Segment 5: Women & Gender Non-Conforming Prisoners
The horrific experiences of people confined in women's prisons during the pandemic are often dismissed while their unique needs are ignored.  AMINAH ELSTER, a formerly incarcerated woman who now works as the Campaign & Policy Coordinator for the California Coalition of Women Prisoners, calls out the shameful neglect of prison authorities and the complicity of elected leaders. 
Learn more, get active:
Segment 6: Indigenous Prisoners
The isolating and terrifying experience of being a prisoner during the pandemic is even more intense for Indigenous prisoners when they are cut off from their traditional ceremonial and spiritual practices.  LENNY FOSTER, a spiritual advisor to political prisoner Leonard Peltier and long-time Indigenous activist, brought these traditions to Indigenous adults and juveniles in state and federal prisons for decades.  But prison officials are restricting many of these practices during the pandemic. 
Learn more, get active:
Lenny Foster, International Indian Treaty Council, and American Indian Movement, www.iitc.org
Music Credits:
Gil Scott Heron: "Delta Man," " Winter In America," "Alien," "All of the Places We've Been"

Rebel Diaz: "Never A Prisoner! (Free Mumia)

Mary J. Blige: "See What You've Done"

Baba Ken Okulolo & Kotoja: "Lye Lye," "K'Mania,"

 

www.babaken.com
Production:
This program was co-produced by Nana Gyamfi, Polina Vasiliev, and Ken Yale, with contributing producers Jacquelyn Batisse and Ute Ritz-Deutch. The executive producers of "Covid, Race and Democracy" are Akua Holt, Polina Vasiliev, and Steve Zeltzer.