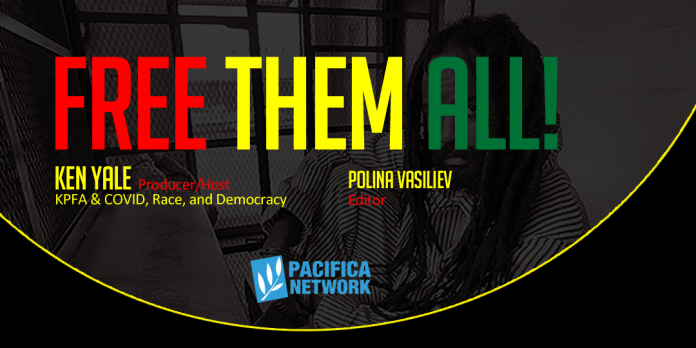 Segment 1: Political Prisoners and Prisoners of War 
déqui kioni-sadiki is with the

Jericho Movement

, which supports US-held political prisoners and prisoners of war. She is also a teacher, an author, and a radio host at WBAI in New York, and is married to Sekou Odinga, who was imprisoned for over 33 years for being a fighter for the Black Liberation Movement.
The U.S. government criminalizes resistance while denying the existence of hundreds of political prisoners and prisoners of war. Many have languished for decades in some of the most unhealthy, repressive, and torturous conditions anywhere in the world. Free them all!
Segment 2: Caging In COVID
Jerome Wright, New York State organizer for the Campaign to Halt Solitary Confinement, and The MAN Program (Mentoring and Nurturing), formerly incarcerated for over 30 years in New York state prisons.
A leading activist for ending solitary confinement vividly describes the terrifying impact of the pandemic, especially on the thousands of long-term prisoners who are aging with dangerous co-morbidities. Free them all!
Listen to a 25-minute version of this conversation, produced for Flashpoints (KPFA)

here

.
A version of this episode was originally produced for the series, Black History in the Making, Reclaiming our Past, Re-defining our Future, executive-produced by Akua Holt and Steve Zeltzer in collaboration with the Pacifica Covid Task Force, the production team of Covid Race and Democracy, Pacifica Network Stations and affiliates throughout the country.
Learn more, get active:
Russell "Maroon" Shoatz webinars on the urgent campaign to immediately release this 77-year old freedom fighter, incarcerated for 50 years, who is battling Stage 4 cancer and COVID-19:
Credits:  
Ken Yale (KPFA/Pacifica producer): kenyale@kpfa.org
Polina Vasiliev, Producer-Editor: polintus@gmail.com
Hosted by Akua Holt.
The executive producers of COVID, Race, and Democracy are Akua Holt, Polina Vasiliev, and Steve Zeltzer.